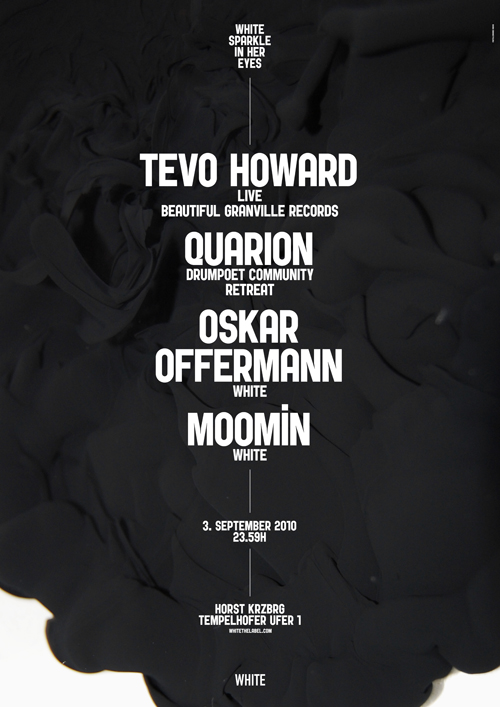 My dear friends and supporters,
This WHITE SPARKLE party is a real affair of my heart… First time I've heard Tevo Howard's music, I was touched so deeply it almost made me cry… So much beauty wrapped in such a simple & honest, yet profound way, was a real mindblower for me! And ever since I tried to book him for one of our label parties at Horst Krzbrg.
So please give a warm welcome for Tevo Howard!
Also I asked our friend Quarion who is a big music lover, and who runs the label Retreat together with Hauke Feer. He is coming straight from Japan that night and will do the warm up for Tevo. Yeah!
Late night WHITE support comes from Moomin and myself. We just did a record on Tristens new joint "Aim" and are very happy about the fact that it all stays within the family…
hope to c u on friday!
yours,
oskar*
WHITE SPARKLE IN HER EYES w/ Tevo Howard Live
Tevo Howard (live)
Quarion
Oskar Offermann
Moomin
03. Sept. 2010, 23:59h // Horst Krzbrg, Tempelhofer Ufer 1